Having recently spent a wonderful week in the Galapagos Islands, I can tell you that it ranks with all the great wildlife art safaris. Africa, Yellowstone, Yala, Great Barrier Reef, Tonga. Galapagos is in a league of it's own.
You'll probably have heard that the animals and birds are very tame, and that you mustn't make contact with them. Well, the animals are quite happy to make contact with us! Birds will peck at your camera lenses or even sit on your backpack. Sea lions will wander right up to you and flop at your feet. They are mostly happy to pose for a long time while you draw/photograph them.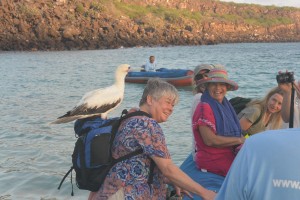 For me, the snorkeling is as important as all the rest. The sea is warm and clear. The turtles, mantas, hammerhead sharks and assorted coral dwellers make it a truly special place. Then there's the Iguanas. Magnificently ugly and quite at home diving into the surf and grazing on seaweed, looking much like a mini crocodile with their lazy tail action in the water.
We spent the whole week living aboard our sailing yacht named the Beagle, naturally, with sixteen like minded travelers and a very charismatic and knowledgeable guide . Up at six for breakfast (and fantastic sunrises), then usually snorkeling or an island visit before heading back for lunch. More activities in the afternoon then dinner, a drink or two in the evening then an early bed.
Just might have to do it all again! If anyone would like more info feel free to contact me…